Don't you hate it when you come home after a long day at work and have to cook dinner for your family of 5? Everyone's tired and hungry and you're still expected to put a delicious meal on the table. Maybe each of the kids want something different to eat or maybe your kitchen sink is still full of dirty dishes from yesterday.
We understand that life can get in the way sometimes. Just like everyone else, you probably have a few messy kitchen drawers full of utensils you don't use. The thought of washing up more than one utensil after dinner makes ordering in sound all the more appealing.
When all you need is one multi-function tool, being in the kitchen is no longer a daunting task. It has everything you need to make a delicious, restaurant quality meal and takes up no space at all! Make cooking a happy part of your day. Share a delicious meal with your family and friends without disrupting the whole kitchen! You'll thank yourself later!
We understood this and created a 9 IN 1 MULTI-FUNCTION EASY FOOD CHOPPER OFFERS ALL THE FUNCTIONALITY OF MULTIPLE APPLIANCES WITH CHANGEABLE STAINLESS STEEL BLADES.
A DREAM tool for your DREAM kitchen! Make your life 100 times easier with the Kitchen King!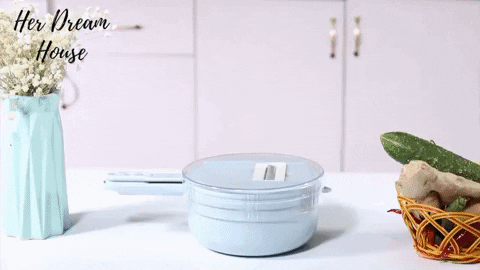 It is designed to cut vegetables conveniently, quickly and safely. Its multiple functions include Juicing, storage, draining, thick grater, thin grater, flower slice, slice, grinding and egg separating. The changeable blades can cut through all kinds of vegetable and fruits, can grate cheese and even create paste-like vegetables or mash potatoes. With this 9 IN 1 Multi-Function Easy Food Chopper, you can save 70% on prep time and you can say goodbye to watery eyes when slicing onions.
FEATURES:
Made from wheat straw PP material and stainless steel, safe, stable and durable to use.
4 different blade types are convenient for meeting different needs.
Ergonomic handle is comfortable to hold and operate.
Various use ways with multiple functions, much more practical.
Equipped with a hand guard, it can protect the hand effectively.

Compact design with nice appearance, it is a useful kitchen tool.
SPECIFICATIONS:
Material:

Stainless steel and wheat Straw material
Color: Blue
Size: 18.8 × 9 × 29cm
Package Includes:

4 x Blades
1 x Container,
1 x Slicing Guard hand Protector
1 x Drain basket
1 x Slicer

1 x Egg Divider+Grater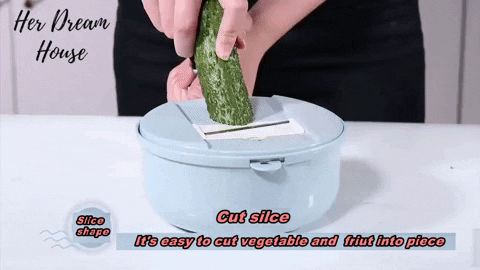 Save money, time and mess
where you can! Spend your days enjoying the kitchen, try out new recipes and make your life just a little easier!